Air-flow type ultra-fine micronizer "Ceren-Miller"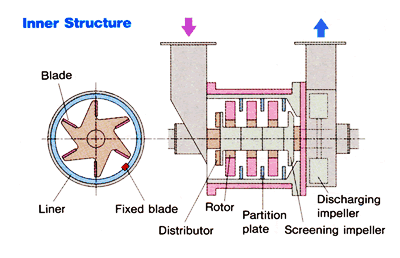 Cellen Miller is air-flow type ultra-fine micronizer that makes pulverization with the use of impact, cut, pressure, grinding and high-frequency vibration. All the measures are produced by ultra high-speed air-whirl, caused by blades of high-rotation, inside the processing chamber.
Ceren Miller is a hybrid triturating machine based on three triturating principles: jet trituration, impact trituration, and stone mill grinding.
The machine has simple structure with no screen installed, the feature which achieves high durability and reliability.
Since the classifier installed in the processing chamber repeatedly sends back rough particle to the chamber for refining, final particle shows very narrow concentration pattern on the distribution graph.
Masuko's long-time experience as well as R&Din the field of micronizing technology, which was transformed into SUPERMASSCOLLOIDER, also realized ultra-fine processor of single-micron sized particle production, the ability hardly found in the conventional type micronizer.