Restored model of 18 lb. Cannon
The original allegedly unproducible at that time was produced by the Masuda family (CEO of Masuko Sangyo) in 1852.
Yasujiro Masuda(the Masuda first generation of our representative) whom there was in the name as a founder of Kawaguchi casting professionals and Shunnan Takashima cooperated in order to create 18 lb. Cannon which was by a request of Tsugaru feudal clan ( existing, Aomori prefecture). They succeeded to create a large casting canon which was almost impossible to create with the casting technology in those days. 213 cannons and 41,323 cannonballs were made by Ansei era five year from Kaei era five year, and it was supplied all over Japan. It must have been great adventure and challenge that to start from daily necessities casting such as a pan or a pot to casting of a large scale cannon. And then, challenge mind is inherited for development of grinding, cutting, pulverizing machines now.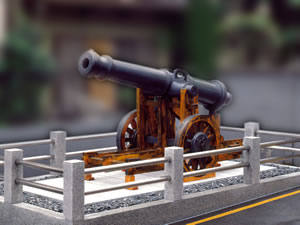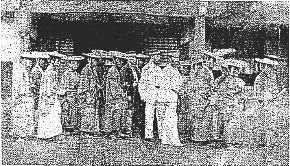 Walking in Edo
The foreigner who took a walk was surrounded by a large number of guards.
Around the end of the Edo era (19th century), foreign ships such as Russia, U.K. France, USA came near a shore of Japan in order to demand and open foreign trade between Japan and their countries. Japan had been closed the country at that time, and the Shogunate leaders thought that foreign ships might attack and invade the territory of Japan. In 1825, the Shogunate established the law that protected and prevented from foreign threat. In 1844, Shogunate decided and fixed a battery in each place and a protection solder in Hakodate, Kunigo, Edo and so on.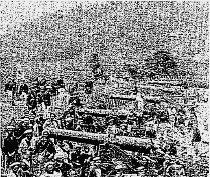 Shimonoseki war.
Shimoniseki battery was collapsed by the attack of foreign ships. Photographed by Veato in September1864.
However, technology of making canon was not accomplished in those days, and therefore, there were not enough number of cannons to protect and prevent Japan from foreign threat. Feudal clan of Mito, Satuma, Choushu, Hizen, and Tosa made an effort to accomplish the technology of making cannons at that time.
"Yasujiro Masuda and cannon"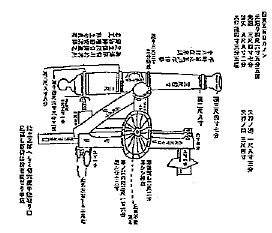 Drawing of a cannon which Yasujiro Masuda developed
Casting professionals in Kawaguchi began to make weaponry as well as daily necessities for the national defense purpose.
Yasujiro Masuda and Kintaro Masuda succeeded and created large sized casting canon for the shore defense purpose, and consequently, they were forgiven a family name.
Ansei six years(1859) Sunnnan Takashima praised Masudas and said " developing an original canon is a great achievement for the country".
Yasujiro was the leading person of casting professionals of canon technology at that time. A canon was muzzle loading type in the middle of the 19th century. A hollow gun barrel was made, and then to finish the inside. There were bronze guns and cast iron guns, and there were two kinds of length. Short length gun was called whistle gun, and long length gun was called cannon.It seemed that Yasujiro made various guns and canons.